Recently, the central ecological and environmental protection inspection team has successively stationed in some provinces and cities to vigorously promote pollution prevention and control, ecological civilization construction and ecological environmental protection. Among them, the supervision of ecological environment protection in areas where alumina industry is located in Shandong, Guangxi, Yunnan, Shanxi, Henan, etc. has led to phased production reduction and maintenance behaviors in some enterprises. The following is a follow-up survey and summary of various regions.
Shandong area: There are 8 alumina plants in Shandong area, with an annual production capacity of 29.1 million tons built locally. Affected by environmental inspections, some alumina plants have reduced production lines for overhaul and shut down roasters. The current annual production capacity in Shandong is 23.4 million tons.
Guangxi: There are 7 alumina plants in Guangxi, with an annual production capacity of 13.3 million tons. Local companies are less affected by environmental inspections, and all companies are currently maintaining normal production, but some new production capacity projects may be delayed. The annual production capacity in Guangxi is 11.9 million tons.
Yunnan area: There is a total of 1 alumina plant in Yunnan area with an annual production capacity of 1.6 million tons. The company is currently in normal production and is running at full capacity.
Henan: There are 9 alumina plants in Henan, with an annual production capacity of 11.6 million tons. Among them, a company in Dengfeng City was affected by power restrictions and shut down a production line, involving a production capacity of 200,000 tons. In addition, environmental protection inspectors have rectified some local mines, resulting in a tight supply of domestic mines in Henan. Two alumina companies in Sanmenxia and Luoyang City were affected by this and implemented production cuts, involving an annual production capacity of 100+400,000 tons. The current annual production capacity of alumina in Henan is 8.75 million tons.
Shanxi: There are 15 alumina plants in Shanxi, with an annual production capacity of 26.1 million tons. Environmental inspections in Shanxi also carried out remediation of mines, resulting in a shortage of local ore supply, and most companies' ore reserve inventories declined. Among them, two companies in Hejin and Xiaoyi City implemented production reductions affected by ore supply, involving an annual production capacity of 140+800,000 tons. A company in Xiaoyi City reduced its production capacity due to insufficient coke oven gas supply, involving an annual production capacity of 150,000 tons. At present, the annual production capacity of alumina in Shanxi is 19.2 million tons, and the environmental protection in the later period has led to an increase in production reduction of enterprises.
Table 1 The impact of environmental protection inspectors in each province and city on alumina production capacity (unit: 10,000 tons)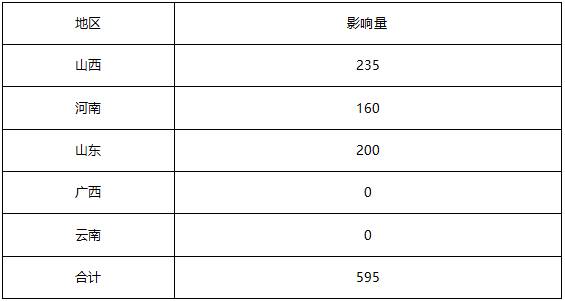 Data source: Mysteel
According to Mysteel's follow-up survey, the current environmental inspections have led to a total reduction of nearly 6 million tons of annual alumina production capacity in five provinces. The main impact is concentrated in Shanxi, Henan and Shandong. In addition, today the Ministry of Ecology and Environment pointed out the current production problems of some enterprises in Xiaoyi. Later, it may strengthen supervision of enterprises that fail to meet the environmental assessment standards in various regions to carry out rectification. It is expected that the impact of environmental protection inspections on the production of the alumina industry will be further expanded.